Bulk SMS
According to marketers, bulk SMS marketing was expected to be phased out shortly. However, it is still very much alive and kicking to this day. The rising use of mobile phones can be attributable to various factors. Bulk SMS marketing is worth investigating because mobile phones account for a considerable portion of all online traffic generated. It has emerged as one of the most efficient marketing tools for organizations, allowing them to engage with all types of customers in a more personalized way than ever before.
If you plan to grow your company and expand its operations, business SMS marketing can benefit your efforts. With the help of a bulk SMS system and an active internet connection, you can even communicate with potential clients who are located outside of your native country or region.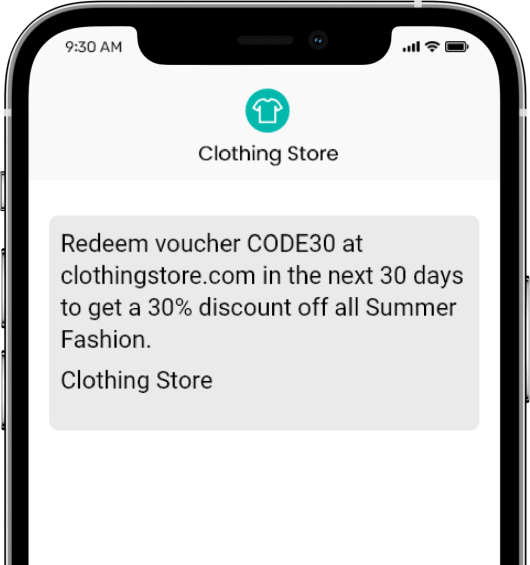 Promotional SMS with discount coupon
A broad range of features for Bulk SMS
Click below to see feature highlights for either SMS, Mobile landing pages, our web portal, or API connections
Templates

Save reusable text message templates so you can quickly send SMS messages again and again.

Two-Way SMS

Build relationship with your clients. Receive text messages and interact with your customers.

Multilingual support

Unicode character encoding allows you to write text messages in any language in present use.

Dynamic fields

Customize messages quickly by choosing any contact details to include dynamically in the text body.

Cost estimate

Estimate the cost of a campaign before sending it and don't worry about spending above your budget.

Multi channel

Available channels to send your message: SMS, Viber, WhatsApp.

Alerts

Upload a file with date columns and create alerts based on that date: birthday SMS, overdue payment reminder and more.

Conversations

See all inbound text messages as a single message feed and reply directly from the chat window.

Custom sender ID

Use your business name as sender ID to send messages to your customers.

Global coverage

Our network allows you to communicate to your customers around the world in a secure and cost-effective way.

Import contacts

Quickly import your contacts list by uploading a file (CSV, XLS, TXT) or by copy/pasting the phone numbers. Save data like name, email, and custom fields.

Custom fields

Upload a file with contacts and set custom data fields, so you can merge multiple dynamic fields into your text message.

Activity log

Records information about your logins, balance top-ups, sent campaigns and more.

Reports and analytics

Track and optimize the performance of your SMS campaigns. Get insights into delivery rates, CTR and more.

Validate numbers

Upload a list of phone numbers and eliminate the invalid numbers to help you clean your contacts list.

Low credit alert

Receive a low SMS credit alert if your account balance reaches the limit you set.

Restrict access

Allows you to limit access to your account to a predefined list of IP addresses
Popular Bulk SMS use cases
Learn how you can use Bulk SMS marketing campaigns for your business.
Mass notifications & alerts
Quickly and easily send in bulk appointment reminders notifications, updates or other alerts.
SMS marketing campaigns
Use bulk SMS as an advertising tool to send special offers, sales promotion, discount coupons, vouchers and more to grow your revenue.
Mass event reminders
Send bulk SMS invitations, reminders and more to improve customers' perception of your company.
Birthday greetings
Compliment your employees, colleagues, customers, friends on their birthday.
Pricing calculator to send SMS to
United States
Pay as you go SMS pricing. When using our SMS API you pay only for what you use.
0.198

€

cost per sms
Send SMS text messages to any mobile network in
United States
for
0.198
€
per message.
Prices exclude VAT which may vary according to the customer's country of residence.
Send SMS to mobile networks in United States:
AT&T
Choice Wireless (ATN)
iWireless
Chariton Valley Telephone Company
Phoenix Communications (Oklahoma Western Telephone Company)
T-Mobile (Deutsche Telekom)
Sprint (SoftBank)
Verizon Wireless
US Cellular (TDS)
Arctic Slope Telephone Association Cooperative
Big River Communications (Big River Telephone)
Carolina West Wireless
CenturyLink
Northwest Missouri Cellular
Public Service Data Wireless
S&T Telephone
VTel Wireless (Vermont Telephone Company)
Agri-Valley Communications
Airpeak
C Spire Wireless (Telapex)
NewCore Wireless
SouthernLINC Wireless (Southern Company)
GW Wireless (Golden West Telecom)
Emery Telecom
GCI
NTUA Choice Wireless
Big Sky Mobile (iSmart Mobile)
All West Wireless (All West Communications)
Choice Wireless
Appalachian Wireless
Blanca Telephone Company (Jade Communications)
Bluegrass Cellular
Cellcom (Nsight)
Chat Mobility
Cellular One (MTPCS)
Cellular One (Smith Bagley)
ClearTalk Wireless (NTCH)
Copper Valley Telecom
Cordova Wireless Communications (Cordova Telephone Cooperative)
Bravado Wireless (Cross Communications)
Custer Telephone Company
ETEX Telephone Cooperative
Farmers Wireless
Illinois Valley Cellular
Limitless Mobile
Indigo Wireless
Inland Cellular
Leaco Wireless
Bug Tussel Wireless (Hilbert Communications)
Mid-Rivers Communications (Mid-Rivers Telephone Cooperative)
Mobi PCS
Matanuska Telephone Association
Nemont (Sagebrush Cellular)
Nex-Tech Wireless
OTZ Telephone Cooperative
Kaptel
Penasco Valley Telecom
Peoples Wireless (Peoples Telephone Cooperative)
Pine Belt Wireless (Pine Belt Telephone Company)
Pine Cellular
Pinpoint Communications
Pioneer Cellular (Pioneer Telephone Cooperative)
Plateau Wireless
Shenandoah Telecommunications
Silver Star Wireless (Silver Star Communications)
Snake River PCS (Eagle Telephone System)
South Central Communications
Swiftel (Brookings Municipal Utilities)
Texas Cellular Communications
STRATA NETWORKS
Union Wireless
United Wireless
Viaero Wireless
West Central Wireless
Northeast Wireless
Ligado Networks
BayRICS
Texas Energy Network
James Valley Telecommunications
PTCI (Panhandle Telephone Cooperative)
MobileNation (SI Wireless)
TelAlaska Cellular (American Broadband)
S & R Communications
SpeedConnect
O2 Secure Wireless
NNTC Wireless (Northeast Nebraska Telephone Company)
ARINC AviNet (Rockwell Collins)
Enhanced Telecommunications Corporation
South Georgia Regional Information Technology Authority
Aspenta
Nortex Communications
Colorado Valley Communications
KPU (Ketchikan Public Utilities)
Evolve Broadband (Worldcall Interconnect)
Adams NetWorks
Farmers Mutual Telephone Company
CTC Advanced Communications
NNTC Wireless (Nucla-Naturita Telephone Company)
Breakaway Wireless (MTCC)
Blue Wireless
BIT Communications (Buggs Island Telephone Cooperative)
pdvWireless (Pacific DataVision)
Rock Wireless (Standing Rock Telecom) (5938)
Redzone Wireless
GigSky
Rise Broadband
Country Wireless
Phoenix Wireless
Infrastructure Networks
Check features of SMS messaging and local regulations for United States:
The Advantages of Bulk SMS Marketing
SMS marketing is one of the most efficient methods of reaching the greatest number of people within the shortest time, within the initial few minutes. According to industry statistics, the vast majority of SMS messages are opened and read within five seconds of being delivered. Compared to email marketing, which has an open rate of roughly 20 percent on average, company SMS marketing appears to be a more effective marketing strategy. To attain a higher click-through rate while increasing engagement, you must begin to treat SMS marketing with its importance.
In the world, there are more than 8.3 billion mobile phone users! Are you doing everything you can to take advantage of this opportunity? The ability to contact an increasingly large number of people with a high degree of quickness is available with all of your communications, whether promotional, transactional or bulk SMS. Additionally, with bulk SMS marketing campaigns benefits, the likelihood of your SMS messages being seen and reacted to immediately is higher than with traditional marketing methods. SMS marketing will undoubtedly be a significant component of your company's integrated, multi-channel marketing strategy, used with other marketing channels.
The fact that it is delivering in real-time is undoubtedly one of the most beneficial aspects that bulk SMS marketing offers. SMS delivery is, without a doubt, lightning-fast. Your message is delivered promptly to your clients' mobile devices without complications. In reality, it has been demonstrated that a text message does not take longer than seven seconds to reach its intended receiver. As a result, you will not have to be concerned about whether or not your messages will be delivered.
Why choose SMS Connexion
Our clients may come to us for many reasons. Here are just some of them.
Powerful platform and API
Reliable infrastructure
Scalable for high throughputs
Enterprise-grade security
Global reach
Direct connections to carriers
Coverage in 200+ countries
Connections with 1100 networks
Managed by professionals
Experience in telecom industry
Research new technologies
Listen to our clients needs
Customer support
Live chat, email support
Good communication with clients
Fast response time