TEXT MESSAGING
Powerful Web Platform for complete communication
Our web platform requires no software. Simply log in and send bulk SMS campaigns, Whatsapp, Viber Campaigns in minutes.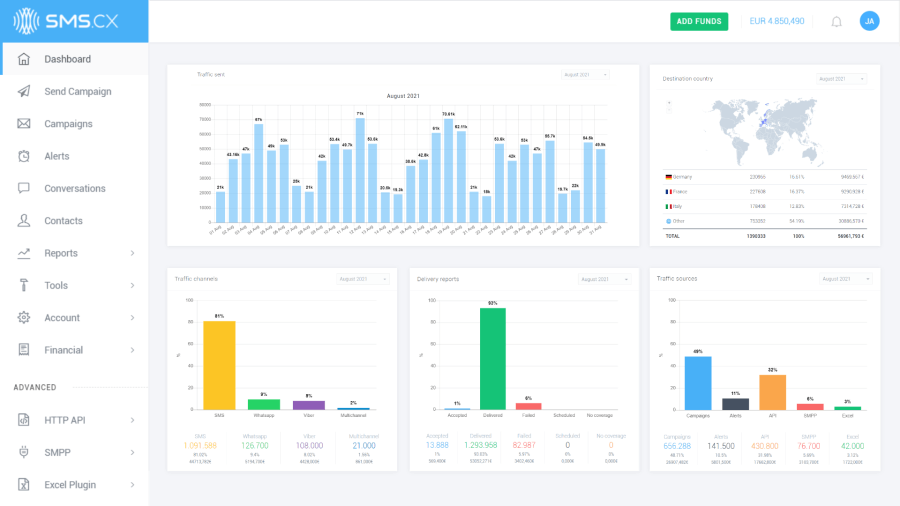 Start sending SMS Campaigns in minutes
Intuitive Interface
The user-friendly Web Platform app takes you through the process of creating and sending a successful mobile campaign. An easy way to send SMS marketing campaigns online.
Easy-To-Use Visual Editor
Login to your account and start a campaign in a minute. Select the contacts you want to target, write your message or select an existing template and send or schedule.
Advanced Features
Use features that stands out: shorten your links, include an opt-out mechanism, customize text with users data, respect quiet hours, schedule the campaign for a later date.
Start Multi Channel marketing campaigns
Reach your customers on their preferred mobile messaging channel. SMS, Viber, WhatsApp are all built-in and can be used immediately.
Web Platform has an intuitive interface from where you can easily send SMS campaigns (Bulk SMS) to your audience. The web platform is dedicated to non tech-savvy users that want to engage with their customers without using an API.
Send up to 200k messages in a single campaign

Create templates to reuse the same message easily

Directly calculate the price for your full campaign in the editor

Get advanced statistics on message delivery and open rate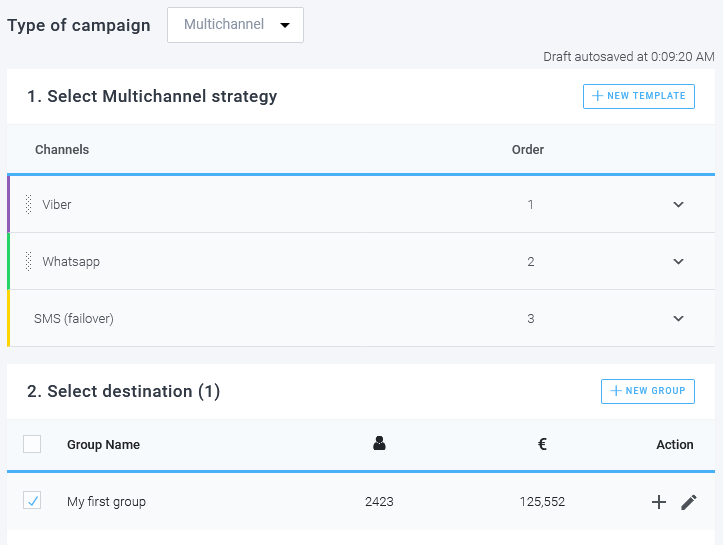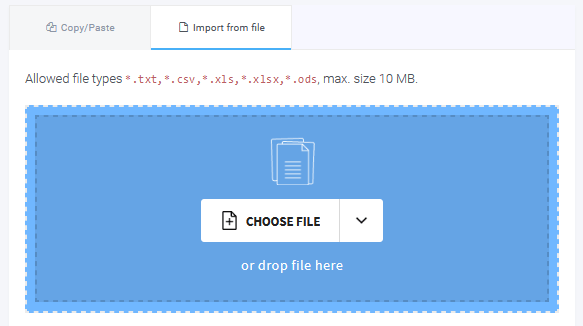 Easily manage your contacts
There's no need to type all of your contacts' details one by one, choose an import method that suits you.
Copy and paste

Import from a spreadsheet or text file (XLS, XLSX, ODS, CSV, TXT)

Synchronise with our SMS API
Include attachments
Give more information by attaching files to your messages. We host them for you and tell you how many clicks you've had. Popular attachments include:
Documents – Word, PDF, Excel

Pictures – JPG, PNG

Audio/video – MP3, MP4, AVI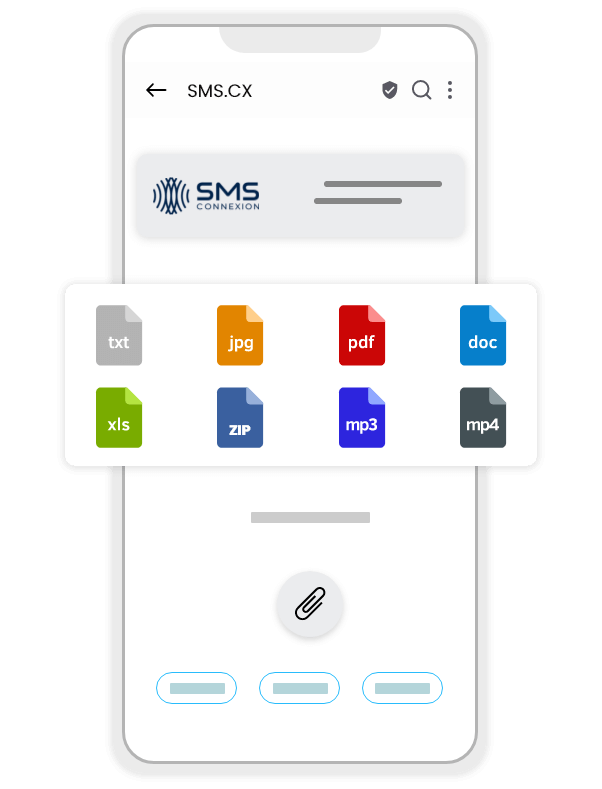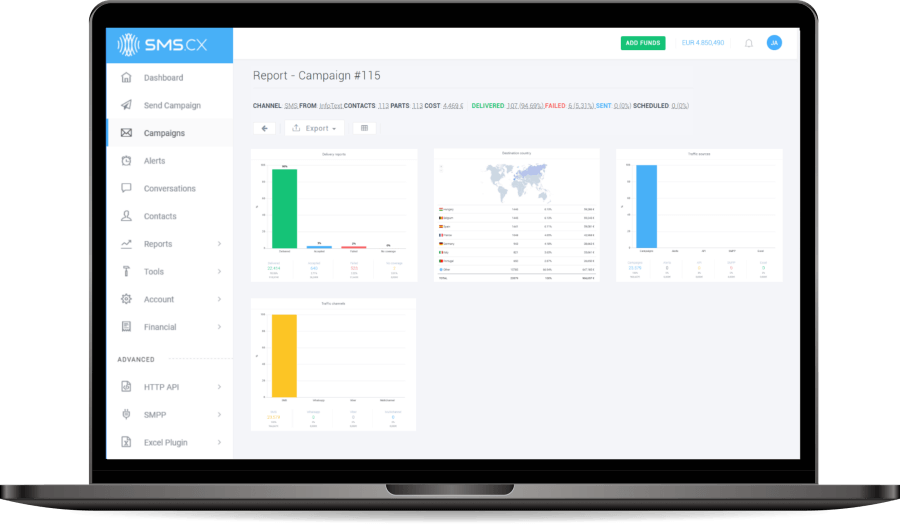 Monitor results with detailed SMS reporting
Tracking the results of your outbound online SMS campaigns helps to develop and improve the way that you communicate with your list going forward. Our online SMS platform enables you to:
Get detailed reporting on deliveries

See all of the contacts opting out of your messages

Track who clicks on your campaign links
Conversations
Reply to your customers directly from Web Platform.
Request access for Conversational Channels (Viber, Whatsapp) or request a virtual mobile number (2-Way SMS) and continue conversations with your customers using the channels they prefer most.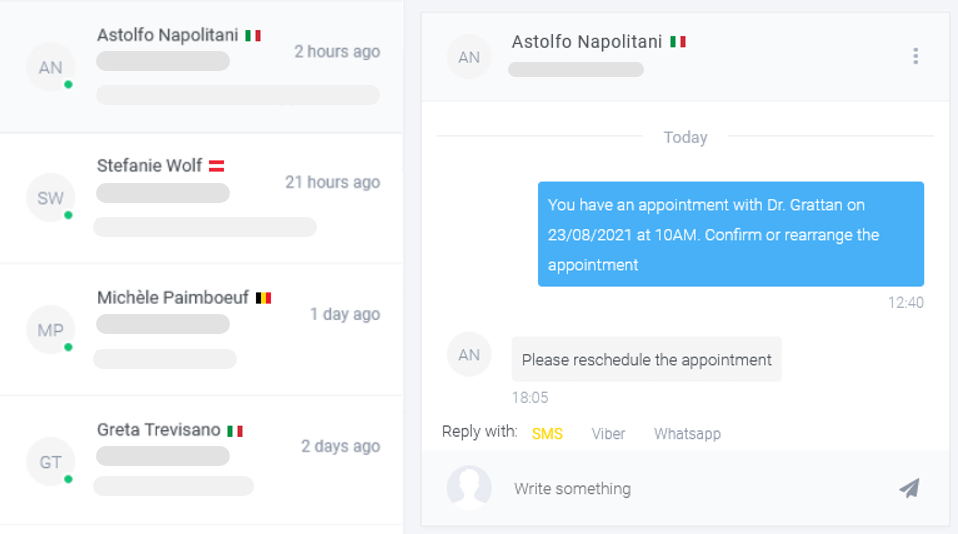 A wide range of features for SMS Messaging
Click below to see feature highlights for either SMS, Mobile landing pages, our web portal, or API connections
Templates

Save reusable text message templates so you can quickly send SMS messages again and again.

Two-Way SMS

Build relationship with your clients. Receive text messages and interact with your customers.

Multilingual support

Unicode character encoding allows you to write text messages in any language in present use.

Dynamic fields

Customize messages quickly by choosing any contact details to include dynamically in the text body.

Cost estimate

Estimate the cost of a campaign before sending it and don't worry about spending above your budget.

Multi channel

Available channels to send your message: SMS, Viber, WhatsApp.

Alerts

Upload a file with date columns and create alerts based on that date: birthday SMS, overdue payment reminder and more.

Conversations

See all inbound text messages as a single message feed and reply directly from the chat window.

Custom sender ID

Use your business name as sender ID to send messages to your customers.

Global coverage

Our network allows you to communicate to your customers around the world in a secure and cost-effective way.

Import contacts

Quickly import your contacts list by uploading a file (CSV, XLS, TXT) or by copy/pasting the phone numbers. Save data like name, email, and custom fields.

Custom fields

Upload a file with contacts and set custom data fields, so you can merge multiple dynamic fields into your text message.

Activity log

Records information about your logins, balance top-ups, sent campaigns and more.

Reports and analytics

Track and optimize the performance of your SMS campaigns. Get insights into delivery rates, CTR and more.

Validate numbers

Upload a list of phone numbers and eliminate the invalid numbers to help you clean your contacts list.

Low credit alert

Receive a low SMS credit alert if your account balance reaches the limit you set.

Restrict access

Allows you to limit access to your account to a predefined list of IP addresses